Paul Nicolaou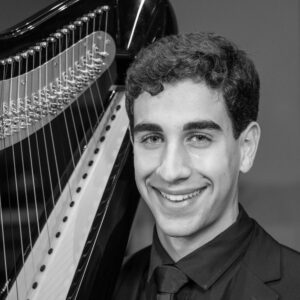 Paul Nicolaou is in his first year completing a Bachelor of Music (Performance) majoring in Classical Harp at the Sydney Conservatorium of Music. He began his musical studies at the age of 5 on piano followed by violin soon after. Through high school, while pursuing piano, violin and composition, he also undertook studies on harpsichord and organ in both solo and chamber settings. At the age of 16, Paul broadened his musical studies by commencing studies on harp, which he is now pursuing at a tertiary level. Before the commencement of his tertiary studies, he studied with American harpist Emily Granger. He now studies at the Sydney Conservatorium of Music under the tutelage of internationally recognised harpist Alice Giles.

In December 2020, Paul was invited to perform as a harpist with members of The Sydney Youth Orchestra, and in 2021, he was offered a position as Harpist of the Sydney Youth Orchestra Philharmonic (SYOP) and The Sydney Youth Orchestra (Flagship). Paul has since been appointed Principal Harpist of The Sydney Youth Orchestra for 2022. In 2022, he will also appear as a Harpist of the Australian Youth Orchestra in both the Winter and Summer Seasons.

Paul has established himself as an experienced and successful emerging composer. Through primary school he showed an interest in composition, and in 2016 at age 12, his composition La Strana Storia for String Quartet was shortlisted in the Australian Children's Music Foundation's (ACMF) National Songwriting Competition – Instrumental Division Years 7 – 12. In October 2021 at 18 years old, Paul was awarded the Monash University Emerging Composer Prize, open to those who have a passion for composition and music technology and are 21 years of age or younger. Additionally, Paul is one of four emerging composers from around Australia to be selected to participate in the Australian Youth Orchestra's 2022 Composition Program in Melbourne, under the tutelage of Anne Cawrse.